Advocate Tools
This page is set up as a teaching tool for our Advocates, teachers, and businesses. It will allow the presenter to demonstrate activities to students, clients, and/or other small groups.

Our most popular program, in schools, is the Soup Can Workout. We ask each student to bring in two cans of soup or two jars of peanut butter. The workout helps fight childhood obesity, teaches the importance of moving, and teaches kids how to have a strong core. We realize kids are not going to stop watching TV, but hopefully we can give them exercises to do while watching TV!
Event Calendar
See below for the event calendar. To sign up for an event, use
Sign Up Genius
.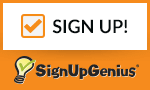 Resources